Getting free of ticks and fleas could be a horrible job for both the pet and the owner; that's why you need the best flea spray for yard.
Several different products can be used to sort out your pet's flea problem, like pills or combs. All types of treatments have diverse benefits and use to free your pet from fleas. A flea and tick yard spray is not as effective for your pet if you only spray the area in which your favorite pet lives and plays. It is a good idea to cover many square feet and outside on lawns and trees and inside your home. If you decide to get free of these species around your house, you must get the most effective flea killers for the yard.
It might be challenging to select the right treatment right away, owing to the variety of solutions accessible on the market. With our vast experience in pest control, let us help you to select the finest option by reviewing the flea spray for yard products available on the market.
In this article, we reviewed top-rated & effective products from different renowned brands so that you can find out the suitable flea spray for yard that meets your needs and requirements. We also prepared a buying guide so that you can make an informed decision while shopping for a flea spray.
Best Flea Sprays For Yard Reviewed – Our Top Picks
These are the top choices for preventing a flea infestation in your yard.
Suppose you are looking to terminate fleas but do not want to release unsafe harsh chemicals to your family members or pets in your house. In that case, you must get this natural Wondercide Flea Spray. With the Wondercide Natural Flea and Tick Yard Spray in hand, the fleas would stop being a problem for you as well as your pets.
This ready-to-spray pesticide comprises natural elements that work great against fleas and other pests while being safe for people and pets. The main active element of this solution is cedar oil, making it an influential flea repellent for the yard and eventual flea killer.
Cedar oil allows killing adult fleas, as well as affecting their flea larvae. You could apply this product to your courtyard, bushes, plants, as well as any other places wherever you suspect fleas are hiding. If you got yourself a particularly bad flea infestation in your area, apply this Wondercide flea solution at least twice in ten days and once monthly. Or you can apply it every one-and-a-half months for long-lasting flea control. To use this item, attach the container toward a hose and spray your courtyard with this natural treatment.
This product is easy to use. You need to mix the required amount of treatment inside the applicator, filling it to the brim with the instructed amount of water. Then, use the blend for spraying the yard.
You might spot a couple of adverse fleas and tick yard treatment reviews on this Wondercide natural solution, with clients saying it is not as effective on fleas as specified on the label. It is vital to identify that a safe, natural solution will not provide instantaneous outcomes with pesticides. However, it would prove its efficacy in the long term and stay safe for people and animals.
Spray it on your yard, grassy areas, plants, anywhere you need, and continue to enjoy your courtyard with no fear of being exposed to any dangerous chemicals or irritations. While the flea & tick spray would not harm you or your pet, it would target several annoying bugs and exterminate all of their life cycles with direct contact.
Keep fleas from becoming a big problem for your entire family. At the same time, you control them with the Wondercide Ready-to-Spray Natural Flea and Tick Yard Spray.
Pros
All-natural plant-based ingredients
Completely safe for kids and pets
No artificial colors or fragrance
Does not kill beneficial insects like bees and butterflies
It covers more than 5000 square feet
Does not harm plant life
It can be used even for very big yards
Includes natural essential oils such as cedar oil
Cons
Needs to be used repeatedly to keep up the protection
Vet's Best has been a popular brand for the previous numerous years, and their flea killer is accessible in a 32-ounce and 96-ounce refill fluid bottle size. It is made with peppermint oil and a few chemicals diluted in water.
Like several other fluid killers, this is also designed to kill ticks and mosquitoes. The bottle has an in-built handle; thus, you can apply it easily and comfortably. The handle is right under wherever the connection is for the garden hose hookup, too.
This flea spray does not affect the mosquito in or around your yard. Sometimes, it could get free of them, while other times, it appears like there is no change, irrespective if you had just applied the flea killer; otherwise, and it had only been a few days.
The Vet's Best Flea and Tick Spray appears almost always to exterminate and stop both of these pests inside hours of putting an application on.
By harnessing the power of peppermint oil as well as Eugenol, the company has formed a product that could kill fleas, mosquitoes, ticks without putting your family or pets at risk of ingesting damaging toxins. As the name recommends, this alternative is great for use in big grass regions.
This spray could cover a grass area of up to 4500 square feet. It works fine on patios or any other outside surface, counting asphalt, concrete, and decks. It will not affect flowers, trees, or shrubs as the active elements would only target pests and leave your plants unaffected.
Another exclusive feature of this model is the bottle's design, which has garnered plenty of positive reviews. You could connect it to a garden hose, which would permit you to spray evenly over your whole yard or kennel without having to purchase additional equipment that can be expensive and hard to set up.  Kennel spray kills mosquitoes.
The formula is mild to your family, pets, and plants yet very effective against fleas, ticks, and mosquitoes because of the use of licensed natural peppermint oil and Eugenol.
The formula is water-based, making it non-staining and faultless for use on turf, patios, lawns, kennels, dog houses, and other outside surfaces.
The Spray kills on contact. However, it can stop flea infestation since recurrent usage will generate a repellant shield for the outside areas you have treated.
Pros
Starts working instantaneously
It works very against fleas and ticks
Easy to apply on garden & yard
The bottle can be connected to a garden hose
Value for money
It is all-natural, therefore, safe for the environment
Harmless for kids and pets as it contains certified natural oils
Cons
It is a hit or miss with mosquitoes
Multiple bottles required for rainy areas
If you are tired of using sprays, particularly those that constantly break off from your garden hose, Ortho Home Defense Insect Killer spray for Lawns is the solution.
It is a granule-type treatment that does not require any kind of equipment for application. It is applicable on flowers, garden vegetables, lawns, and along the border of your house.
Ortho Home Defense works on a range of persistent insect pests, such as fleas, ants, ticks, chinch bugs, spiders, cutworms, mole crickets, and sod webworms. A single 10 lb. bag could cover an area of 10,000 square feet and could provide residual protection of up to three months.
This flea killer is a great alternative for homeowners that prefer granules to spray solutions. You could apply the tick treatments to your courtyard, lawn, vegetable gardens, etc. Make certain to put gloves on beforehand, spreading the product over your region. Once you apply it over your courtyard, water the treated region to make the solution start working.
The ten-pound packet would cover an area of up to 10,000 square feet; however, a twenty-pound pack would be enough for bigger yards. This product will offer ninety days of protection for you, your family, as well as pets by killing ticks, mole crickets, fleas, spiders, ants, chinch bugs, cutworms, plus sod webworms outer your home.
Moreover, it will remove nymphs, flea larvae, flea eggs, disrupting the whole life cycle of these pests. So, it stops these species from getting inside your home and generates a pest obstacle in minutes.
We like that this product is easy to spread, effective, and lasts for long. Moreover, it also has a pleasant scent.
Also, you could get your cash back if the product does not meet your expectations. However, thousands of customers have tried this ortho treatment numerous times, and they were very satisfied with its outcomes. Several users stated that this solution smashed their flowers and vegetables afterward the application. Thus, if you want to get free of fleas on your lawn, check out one of the all-natural products stated above.
Pros
10,000 sq ft coverage
3 months residual protection
Works on an extensive variety of beneficial insects
Works in minutes
All-natural ingredients
Easy to spread
Could cover a large area
You could get a refund if it does not work
The effect lasts for ninety days
Cons
It is a widely-known flea killer spray used by house proprietors all over the country dealing with flea infestation. The Black Flag yard treatment spray comprises Permethrin, and as we already know, it is a great pesticide that kills fleas. The effect of this product continues for a long time, killing pests for up to thirty days after once applied.
However, Black Flag Flea spray is dangerous for cats; thus, you need not let your pet out until the solution dries out so your cat will not access the treated surface. The spray is easy to use, as well as all you need to do is mount a hose toward the bottle. With this Black Flag spray, you could cover a large area in a small span.
This 32 oz container could work on up to 5000 sq. ft. To accomplish its maximum effectiveness, make sure to spray it on all surfaces that are infected with fleas, including your yard, potted plants, porch, and other foliage.
With this alternative, you could experience a safer yard free of fleas and ticks as it contains mylar. The active component will kill the adult fleas and the flea larvae as well as the flea eggs. Once applied, the product would keep your outside region free of fleas for up to twelve weeks.
The spray container features a quick flip sprayer that lets you connect it straight to your garden hose, so you will not have to buy additional equipment. When you connect the garden hose to the flip sprayer, water will mix automatically with the product; so you don't have to waste additional time calculating the accurate dosage.
It can efficiently kill fleas, flea eggs, ticks, mosquitoes, and other harmful insects that have infested your lawn, shrubs, and trees. The active ingredient would interrupt the flea life cycle and target adult fleas, flea eggs, and flea larvae. In addition, the product could also protect kennels or dogs or as a home barrier around the foundation.
To sum up, we love this solution because it quickly covers even big areas and works for a long time. If you have a truly big yard, it is your ideal bet.
Pros
Can cover a big area
The container can be attached to a garden hose
Has a long-lasting performance
Easy to use
A quick flip sprayer included
Also kills mosquitoes, larvae, ticks, etc.
Cons
May cause allergies in some people
Hazardous to cats
This Spray kills numerous bugs such as adult fleas, ticks, mosquitoes, and ants without leaving residue behind. Once applied, Adams plus Yard Spray retains killing for four weeks. It is faultless for indoor and outdoor use as it contains natural ingredients that will not risk the life of plants and animals in your home.
You must spray the entire yard perimeter for the finest results at least each 4-8 days. It is the finest way if you are dealing with a severe flea infestation around your home.
Though, for maintenance and flea prevention, you require to spray every four weeks. With this yard spray, you could treat up to 5,000 square feet of area without injuring the grass.
To confirm that pests do not come back— target flowers, lawn, trees, shrubs, and garden. It is also possible to spray outside areas, for example, foundations, patios, buildings, wooden decks, fences, woodpiles, window frames, and many more.
This permethrin solution keeps away spiders, ticks, fleas, and all kinds of insects, similar to whiteflies, mosquitoes, ants, beetles, crickets, and termites. You could be sure that this product would help you a lot since Permethrin effectively kills fleas in all phases of life.
By using the amount of product you get in the 32-ounce container, you would be capable of spraying a region of 5,000 square feet, which is about the same as with maximum products. The great feature that this flea yard spray comes with is that it would repel fleas from your yard for an additional 4 weeks.
Even if you cannot use it on your pets, you could be certain that your pets would not contact any fleas since your yard will be entirely secured against these undesirable pests.
Ensure that you connect properly to a hose and that the water pressure is accurate for the preferred outcomes. The product could also be used for killing fleas and ticks from pets.
The great thing about the tick control spray is that it would not stain the regions where it is applied, which is a great asset if you compare this with other similar products.
Its most sought-after asset, though, is the detail that besides killing fleas, it moreover has the capability of repelling them for up to a month afterward you have applied this, thus you will be capable of saving lots of time and money. It is also very effective at repelling multiple insect pests.
The makers designed its nozzle to be easily attached to a garden hose; thus, you would not need any additional special equipment.
Pros
Easy application
Up to 4 weeks of protection
The bottle can be attached to a garden hose
Protects your pets by preventing flea infestation
Reasonable price
Cons
The Advantage Yard & Premise Spray is a great yard treatment against fleas but also against a few other bugs and tick. This flea, tick & yard spray is a great pick for people who need it in big areas since it has great coverage properties. 
You might think that using this kind of solution could be tricky. Still, the manufacturers claim to eliminate the flea problem since they offer a hose attachment. All that needs to be done is to hook up your garden hose and start spraying.
The Advantage Yard Spray will exterminate fleas, but it is very effective in killing fleas and deer ticks, recognized as the carriers of Lyme disease. The formula uses its leading active element Esfenvalerate. This very popular element has proven its effectiveness in getting free of fleas.
You must never use it on your animals or pets since it is not designed for this.
Pros
Effectively gets free of other insects, like flies, moths, beetles, and tick
It has a hose attachment that is prepared to use
Capable of covering an area of 16,000 square feet
It has proven to be very effective.
It has great feedback from persons who have used it so far
Cons
Can have spots on given areas
When seeking the top flea spray for yards, BioAdvanced Complete Insect Killer must not be overlooked. It uses a highly effective two-way formula that kills ticks, fleas, and other bugs (including European crane fly larvae, Japanese beetles, ants, grubs, and mole crickets) from both the soil well as the surface.
This tick control spray needs only 24 hours to exterminate surface insects, and it would keep your garden, yard, and soil bug-free for up to 3 months afterward flea treatments.
This flea killer for yards normally comes in a 32-ounce ready-to-spray bottle that you attach toward your garden hose. A 32-oz bottle is sufficient to cover 5,000 sq. ft. of space. The bottle's spraying mechanism is simple and easy to use without any splashback.
The main active elements of BioAdvanced Insect Killer are imidacloprid and beta-cyfluthrin. Imidacloprid attacks the nervous system; however, beta-cyfluthrin is both a stomach toxic and a nerve agent. Both are extremely toxic to beneficial bugs (e.g., bees, butterflies), birds, and aquatic life. Also, they are eye, skin, and respiratory irritants and would not be eaten. Beta-cyfluthrin is particularly dangerous while inhaling. Wear a protective dress and face mask while applying, and wash your hands carefully after application.
Be certain to keep kids and pets out of the treated area until the spray has dried. The label offers no info on how long this might take.
BioAdvanced Complete Insect Killer could be applied anywhere outdoors – your driveway, the sidewalk, your patios and porch, your home's doors, windows, and eaves, and so on. However, it could only be used as a spot treatment on waterproof surfaces (e.g., sidewalks, driveways, patios). It could only be applied extensively on lawns, soil, as well as building foundations.
Pros
A very operative two-way flea treatment for both above- as well as below the ground
A 32-ounce bottle covers 5,000 square feet of courtyard space.
Kills inside 24 hours
Keeps killing and protecting your turf and lawn for 3 months
Easy to install as well as dispense
Kills a lot of surface insects and mosquitoes
Cons
The Spray might take a long time to dry
It is poisonous to humans as well as pets
Spectracide Trazicide Concentrated Spray could be bought in a pack of 6 32-oz bottles, each of which could cover over 5,000 square feet of space.
While correctly applied, Spectracide Triazicide Insect Killer is very effective. It exterminates over 200 diverse arthropod species, counting ticks, fleas, European crane fly larvae, Japanese beetles, lady beetles, mosquitoes, carpenter ants, harvester ants, earwigs, mole crickets, as well as grubs.
Spectracide Triazicide Ready-to-Use Spray specializes in attacking bugs both above and below ground. This makes it a very effective flea and tick courtyard treatment. The formula keeps bug-free yard space for up to 3 months. It could moreover be applied to trees, vegetables, shrubs, and fruit trees. Be sure to wait the suggested number of days after application before harvesting.
The main active element is gamma-cyhalothrin, a nerve-targeting pesticide that reasons paralysis and death. It is extremely poisonous to humans and other mammals, toxic to aquatic life and beneficial insects, and moderately toxic to birds and earthworms.
Be certain to wear appropriate protective gear through the application, wash your hands and dresses afterward and keep everybody out of the area until the spray-dried.
Pros
Very strong as well as effective two-way formula
It is a kills-on-contact spray
Kills insects both above- and below-ground
Sold in a discounted packet of 6 bottles
Attacks bug above and below the soil
Complete barrier protection of your household and property
Cons
Extremely poisonous to humans and pets
Highly toxic to valuable bugs and aquatic life
Both for interior and exterior insects, this water-based product includes 7.9 percent Bifenthrin solution as an active component. Because of this, it is capable of eliminating a wide range of pests, including insects, lice, cockroaches, and mites.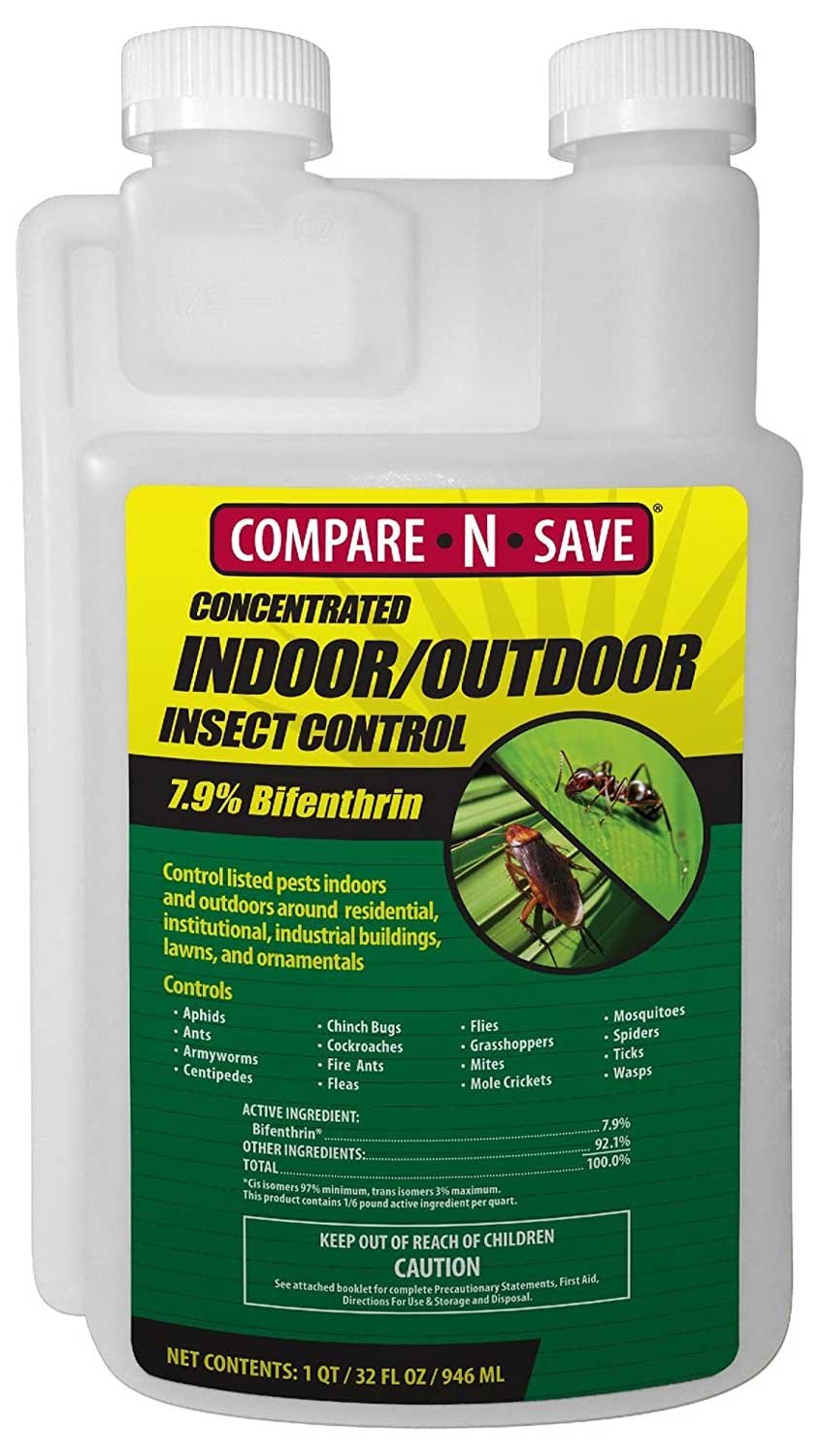 It's also quite user-friendly. Spray the solution in locations where you see evidence of insect activity. Fissures and gaps, nooks, closets, doorways, and windows, as well as sinks and water pipelines, are ideal places to use this product. As a result, you'll be able to defend your home against a variety of pests.
This 32-ounce container may blanket up to 176,000 sq ft in addition to all of the other advantages. So, whether you're using it in a tiny bedroom or the entire house, it's more than adequate.
In the event of an outbreak of fleas, cockroaches, and ants may all be controlled with this product. Insects on ornamentals, trees, and shrubs are also controlled, as a preventative measure, use this product.
Pesticide will not be washed or blown away by wind or rain if this product is applied in calm weather with no rain forecast for at least 24 hours. Insect-specific administration instructions may be found on the product label.
Specific rates, directions, and warnings for each species are listed on the label. For further information, including dosage rates, mixing directions, and other specifics, consult the Complete Label.
All food preparation surfaces and utensils in the home should be covered or properly cleansed before use in order to prevent contamination. Food that is uncovered should be wrapped or withdrawn.
Use a low-pressure spraying or a paintbrush to apply permanent management of the specified pests in structures, buildings, and means of transportation. The inside interiors of dwellings should not be sprayed with this product or broadcasted. Pay careful attention to the gaps and crannies in your home where bugs might hide. Consider using it in places like the undersides of cupboards and drawers and the borders and corners of the room as well as in the attic or eaves as well as in the vicinity of plumbing and other appliances and fixtures.
Pros:
Ant, roaches, fleas, flying insects, mites, and smelly bugs are just a few of the pests it can eliminate.
As an added benefit, it is suitable with other insecticides and household pest control sprays.
Spray bottle with an aerosol spray for ease of usage
176,000 square feet of total covering
Cons:
Some customers complained that the cap was flimsy and might allow liquids to leak out
How To Find The Best Flea Spray For Yard That Kills Fleas and Flea Larvae?
Buying a flea killer is not an easy job, but the info below will help you make the ideal choice. The accurate flea treatment for your area depends on numerous factors, counting the form of the product, the size of your yard, whether it is safe for your pets, amongst others. 
These are the consideration you need to keep in mind before purchasing a flea yard spray—
Other Pests That The Flea Killer Can Kill
One of the advantages of a flea killer, whether natural or chemical, is that it would almost always work on other bugs. The most common insects that hate flea killers are mosquitoes, crickets, ticks, spiders, and centipedes. Depending on the formula, some of them could be hit or miss for deterring the other insects. However, they almost continually work on fleas and their larvae.
Ingredients- Natural or Chemical Ingredients
One of the most common elements that almost all flea killers have is several amounts of peppermint oil. The reason is that it is one of the most natural deterrents for fleas and other bugs. Experts say that maximum ants, spiders, mosquitoes, lice, cockroaches, and even some rodents almost always hate the smell of the oil, among other things.
Besides chemicals, several other common elements are oils from other plants, similar to cedarwood, citronella, rosemary, and lemongrass. All of which appear to be hated by almost every one of the previously stated pests.
Duration and Usage
Flea-killing products come in numerous forms, for example, granules, sprays, concentrates, etc. Some solutions repel fleas or affect adult species; however, others kill insects in all life cycles, stopping them from growing and reproducing. The products that could help you get free of adult species and their larvae are constantly costlier.
That's why it is significant to carefully go over the selected option's label to select the flea treatment that would provide the preferred results.
Another issue to consider is the ease of use of the selected product. Maximum such treatments come with a spray applicator. Also, you require to check how long the effect afterward the application lasts. The longer, the better. Maximum options continue to work for up to a month, and inexpensive ones could get washed out by the rain.
What is more, it is vital to consider wherever the selected flea treatment could be applied. Make certain that you can use it on as numerous surfaces as possible. The allowed regions should contain shrubs, gardens, vegetation, flowers, lawns, etc. This way, after the application, you would confirm that the largest part outer your home is treated. Furthermore, some products could be applied even indoors, thus take it into account.
Coverage
Can a pest control spray work for big yards or only small ones? For a small area, we commend you for getting a spray with the lowest capacity.
You would have to purchase a concentrated product for larger territories or apply the solution numerous times to accomplish the desired outcomes. Besides, some products have the estimated coverage stated on their labels.
Think About Pets
It is vital to consider whether or not the specific solution of a spray is safe for usage around your pets. Carefully read through the constituents, as well as cautionary labels. While some sprays are made of natural ingredients, others comprise harmful chemicals.
Ease of use
Another significant factor while searching for a flea spray for a yard to stop or prevent fleas infest is the product's ease of use. Though pest control sprays are the most suitable form, the small chemical elements contained in most of them could be easily carried away by the wind, which will decrease the efficacy of the item.
As we previously stated, an anti-flea yard spray should not be used before rain or storm forecasts or while the seasons are about to change. And, if you want to upsurge the efficiency of your flea spray for yard, reapply the spray for a couple of days, as long as your family and pets are safe inside the house.
Safety
From our reviews above, you can certainly see that maximum products have natural elements. It means that they are safe to use in homes, plus compounds with pets, plants, and humans.
Still, it is significant to note that some of them may have secret additives that might reason severe side effects otherwise allergic reactions. Before buying a product, you want to check the elements used to prepare and check that they are safe for you and your loved ones.
Effectiveness
You don't want to finish up with a product that is not effective sufficient. It is vital to get your money's worth at all times. To get this, make certain to get a product that would keep killing for the longest time possible.
You could get this info by going over online product reviews. It would help if you were cautious since some reviews are done by similar firms that sell the products.
Also, try to purchase a pest control spray that you could dilute in small quantities however end up using in big areas. For example, if you could use 32 0z on 13,000 square feet, that is an extremely effective product.
Check The Reputation of The Dealers
Presently, many companies claim to manufacture the finest pesticide. Still, you cannot be so sure by reading from their website. To be definite about this, look for sites that offer an honest review of those companies.
Furthermore, you can get info from the people that have used their products beforehand. Some firms do not use the right processes to make pesticides; so, they end up selling low-quality products that would not meet your anticipations.
Avoid purchasing products from companies that do not share sufficient info about the products that they sell.
Check the Price
With the price of the product, you can tell whether a product is effective. You should not purchase products with inflated costs since this may not imply that they are right.
Trustworthy companies sell products at rational prices since they are not seeing to exploit purchasers. Shop online, make a list of products that you consider purchasing, and compares their prices. If possible, save cash for going for the ones on offer.
Reviews
Next, internet reviews. We tend to go over hundreds of online reviews for each article we write to give you adequate info. We know first-hand how annoying, subjective, and lacking context online client reviews can be. Be careful of reviews stating that products are ineffective. They are typically written by customers who misused the product. Make sure to read numerous reviews from diverse sites and pay attention to the details.
Brands
Lastly, there are diverse brands out there. Highly regarded brands are a good choice. Though, if you do the rest of the study stated above, the brand must not be the determining factor. Chances are, you would end up with a brand already renowned for good products.
Since flea killers are a common tool used by pet proprietors, most vets usually know which flea killers have the most damaging ingredients. You might want to ask them which elements you may want to avoid for your pet's health, and this may help you avoid ingredients that might hurt your health as well.
Final Thoughts
Your yard could be a hot spot for fleas, which will rapidly jump aboard your pet or you and hitch a ride into your home. Once fleas have found their way inside your house, they could multiply extremely fast, causing a wearisome invasion that brings irritation and suffering to all residents.
It's easy to overlook the yard as a region to treat for fleas. After all, it is very unusual that you will spot fleas as readily in the yard as you do; however, you might see one leaping across your sofa. Fleas are brilliant at hiding away in shaded outdoor spaces, so the problem might not be obvious at first.
Using courtyard fleas sprays is the most effective method to crush fleas at their source, guarding your home and pets against this blood-sucking danger. With both chemicals and non-chemical options to select from, you will definitely find a perfect flea and tick yard spray for your requirements. Moreover, you can write to us for more information (data rights reserved by our privacy policy).
FAQs
Are flea control sprays for the yard safe for pets?
Category: Flea Spray for Yard
As a general rule of thumb, several lawn flea sprays are not safe for dogs. Since they might contain chemicals that could be harmful to pets—particularly if not used properly.
Are insect growth regulators safe?
Category: Flea Spray for Yard
Ans: Though they are rarely disastrous for adult insects, they can stop reproduction, egg-hatch, and molting from one phase to the next. Many IGR products are mixed with other pesticides that eradicate adult insects. IGRs are usually low in toxicity to humans.
Do Flea Collars Work?
Category: Flea Spray for Yard
Ans: Yes! Flea collars are considered to kill fleas. Some collars target merely adult fleas, while others might kill some of the younger phases of fleas.
Do flea traps work?
Category: Flea Spray for Yard
Ans: Yes and no. Flea traps do attract and capture fleas, but they will not eliminate an active invasion all by themselves.
How could you check for courtyard fleas infestation?
Category: Flea Spray for Yard
Ans: A simple means to decide whether you have fleas in your courtyard is to put on a pair of tall white sporty socks (pull them up as far as they would go) and walk around your yard, particularly near the areas your pet likes to go frequently. If fleas exist, they will show up on your socks.
How long does a flea killer for the yard last?
Category: Flea Spray for Yard
Ans: Flea control for your yard comes in a fluid, chemicals arrangement that you could spray over your courtyard to kill adult fleas. Moreover, some kill flea larvae, eggs, and pupae, too; however, these tend to be more costly. Most flea and tick sprays last around three or four weeks, but the inexpensive ones will be washed away by rainwater.
How long does It take flea and tick yard spray to work?
Category: Flea Spray for Yard
Ans: Depending on the product used and level of flea infestation, it could take as little as a day for the flea sprays to work. But frequently, a complete flea infestations removal could take 3 to 4 months, as the fleas' life periods might last this long.
How long does it take to eliminate fleas in-house?
Category: Flea Spray for Yard
Ans: It can take three to four months to get free of a flea infestation, as it takes this long for all of the fleas in your household to go over their life stages. Here are the steps you need to take to eliminate fleas in your home: Wash all dog beds and soft dog toys in hot, soapy water.
What can I spray in my yard for adult fleas and ticks?
Category: Flea Spray for Yard
Ans: The most usually used flea control sprays are those equipped with pyrethrin. This special insecticide chemical is usually used on homes because of its extremely low toxicity on humans. Still, it is highly effective in killing adult fleas. IGR sprays are another kind of chemical treatment used against parasites in the yard.
What is the best flea control Spray to kill fleas in the yard?
Category: Flea Spray for Yard
Ans: Vet's Best harnesses the power of Peppermint Oil and Eugenol (from Clove plants) in an exclusive blend to exterminate fleas, ticks, and mosquitoes. Their Yard and Kennel Spray is a pet-friendly and a family-friendly solution.
What is the natural way to get rid of fleas in the yard or make your yard flea-free?
Category: Flea Spray for Yard
Ans: Nematodes are one of the leading natural treatments to eradicate fleas and ticks in your yard. Accessible in spray form and not noticeable to the naked eye, nematodes are beneficial worms that release an element that is poisonous to fleas and ticks. Nematodes are safe to use, as well as do not hurt humans or animals.
What is the side effect of diatomaceous earth?
Category: Flea Spray for Yard
Ans: If breathed in, diatomaceous earth can irritate the nose as well as nasal passages. If an extremely big amount is inhaled, people might cough and have shortness of breath. On the skin, it can cause annoyance and dryness. Diatomaceous earth might also irritate the eyes due to its rough nature.
When should I spray my yard for fleas?
Category: Flea Spray for Yard
Ans: The ideal time of year to start your flea treatment will be in early spring before they start coming out in full force.