If you're experiencing an infestation of rats and your home is a victim, it could suddenly be an area of stress; you need the best rat bait to get rid of these rodents. Left unchecked, you could hear rats squeaking within the walls and within the attic. And finding out a few mysterious droppings that appear on the shelves of your pantry could be enough to trigger an anxiety attack.
Using rat baits and poisons to get rid of these vermins is a safe and effective method to control the population of rats around your home. There are a variety of available brands of poison. How do you decide which you should purchase?
To assist you in eliminating the critters that are a nuisance, we've compiled our list of the six most effective rat baits available. In addition, we have compiled a useful buying guide that will assist you in making an informed decision.
7 Best Rat Baits Reviewed: Our Top Choices for Controlling Rat Infestations
We've researched the market, read customer reviews, consulted experts, and concluded that these 6 rat baits or rat poisons are the most effective baits available right now. They have different characteristics. So, read on. Find out the best rat bait suitable for your need.
Motomco Tomcat All Weather Bait Chunx is one of the most effective rat baits available in the market. This bait has a plant-based flavor to prevent them from being consumed by dogs or cats, who are usually attracted by meat-flavored bait.
It comes in a large 9-pound plastic tub containing around 120 bait pieces (varies in weight). The primary ingredient that is used in Tomcat rat baits is diphacinone.
Diphacinone is an anticoagulant that causes mice and rats to bleed out of their internal organs within about 4-6 days. On one side, it is not as powerful; it has a slower rate of action than brodifacoum and bromadiolone, the two other popular anticoagulants available. However, it does get the job done and provides you with a bit more time to seek medical treatment in an unexpected incident involving your pet or children.
Tomcat rat bait is a good choice if you're patient enough for the rat poison to run its course. One of the useful features is that it's built to be used outdoors, which means it's not restricted to putting it inside your home. Place it outside, close to access points, and your work is done. Moreover, if you have a barn or silo area, you could place bait in these areas with no issues.
Pros
Suitable for outdoor use
Containing 1st generation anticoagulant
Available in a large tub
Works for all ages of rats & mice
Mold and moisture-resistant
Suitable for both agricultural and rural settings
Also works for squirrels & raccoons
Cons
Takes 4-6 days to kill rats; require repeated feeding
Neogen Havoc is a brodifacoum-based bait that also acts as an anticoagulant. This is a highly potent chemical that can kill rats with one bite. When exposed, brodifacoum is a danger for humans; however, Havoc is an enclosed mouse trap. Havoc has an enclosure that does not require that you contact the bait.
These baits are available in a 40-piece container; that's fewer pieces than we'd expect at the cost. But, since they're powerful, you don't have to buy more than one to eradicate a comparable amount of rats. A handful of rat traps is enough to kill several rats, and the tub is as large as a larger container of less potent poison.
Havoc baits are made to be used indoors. Install them indoors or even inside a shed or barn doorway to achieve the most effective results. You may also wish to place them within other entrance points, like windows with chewed-out air vents screens.
Be aware, however. This bait can be very potent. While it's hard for adults to commit suicide, smaller children can chew the bait's housing. Ensure they are out of reach and keep them out where children could come across them and be interested.
All in all, Neogen Havoc is an excellent choice to deal with massive rodents. Even raccoons die fast after coming in contact with the bait.
Pros
Very potent rat poison
Strongest anticoagulant
Works in just a few days
Enclosed bait chamber for added safety
Suitable for both household and industrial use
Kills Norway rats, house rats, roof rats
All-weather bait for rat infestation
Cons
JT Eaton 709-PN Bait Block is designed to be as cheap as possible while still giving you the ability to tackle the mouse problem. The package contains 144 bait blocks, so you'll be able to rid yourself of a lot of rats without purchasing numerous buckets.
The bait is peanut butter-flavored, making it appealing to rats and mice, squirrels, raccoons, and other insects of all sizes. The drawback? It's also appealing to both dogs and cats, so be sure to place your bait in places that your pet isn't able to get at it.
The better option for every bait you use is to place it where rats will be and not the place where your pets are. Check for exhaust vents from furnaces, dryers, attic vents, and other places in which rats run and can gain access. Set your bait in these locations, and you'll ensure your pet's safety while attacking the rats each time they go in or out.
The principal ingredient in 709-PN Bait Block is Diphacinone, a powerful anticoagulant, but it's slow in its action. This product could take approximately a week or more to eliminate your pests. But, it's powerful enough to finish the job provided you have some patience.
Pros
Butter flavor attracting rodents
Very cheap
Comes in a large bucket
Active ingredient Diphacinone 0.005%
Perfect for garages & basements
1-year limit
Also works on chipmunks & red squirrels
Cons
Takes a few days to eradicate rat infestation
The smell bait attracts cats & dogs
Neogen Ramik Mouse and Rat Bars are baits with a fish flavor that is a magnet for rats. The smell of fish is captivating to the rodents, and you can swiftly eliminate an entire colony of rats when you've placed your baits in the right places that are strategically located.
However, be aware that domestic cats and many dogs love the fish taste just as much, and you'll need to choose carefully where to put the bait if you own an indoor cat.
These baits employ diphacinone poison that is a bit slow-acting in comparison to other anticoagulants. As we've mentioned before, it's both an advantage and a drawback. On the one hand, it means that rats will be slower to die, but on the contrary, you'll have time to seek help if your pet or your child is poisoned.
Contrary to the baits we've seen, they're designed to be used indoors only. Although they're resistant to mold and water enough to use in a damp basement, however, they'll melt in the rain.
Neogen Ramik is an excellent choice for those seeking to attract the most rats you can. It is extremely effective in drawing rodents in and bringing bites.
Pros
Rat dies after a single feeding
Flavored for high palatability
1st Generation Anticoagulant: Diphacinone
Mold and moisture resistant; usable in damp condition
Effective against Norway rats, house mice, and roof rats
Large bait can poison an entire colony of rats; not one rat will live
Cons
Highly intoxicating poison
Just One Bite's title suggests that it's as easy as getting the rat to take one bite. In actuality, it could require two or three bites for a rat, or maybe one for mice. However, it is one of the most potent poisons available and extremely effective.
The downsides of a bar poison typically arise from breaking it down, and this one is no more different. It's a one-pound bar that has been indented at its breakpoints. It's difficult to break regardless of the indenting. Because it's a poisonous substance, use gloves and masks in the event of breaking it.
But, despite that, it can be highly efficient. It is a delicious scent that makes it appealing for all rat species. Due to its potency, we suggest using it only in an enclosed mouse trap. It should not be left in a place where animals could get to it.
Pros
Lethal for rodents with a single dose
No possibility of bait shyness
Capable of killing warfarin resistant Norway rats
Very effective agricultural poison
Peanut butter scented, so rats love to nibble it
Designed to promote feeding
Cons
Because of its high poisonous substance, ca only be used in enclosed mouse traps
If you're looking for a proficient method to eliminate rats in your home or apartment, you can try using the D-Con Corner Fit Mouse Poison Bait Stations.
This rat-bait station is compact and has a safe design that ensures your pets and children will not be able to access the bait. The station is equipped with 20 bait refills, which is sufficient to eliminate the biggest rat colony.
The ingredients that make up the formula in this formulation are safe for humans. There is no need to worry about cross-contamination with your pet or wildlife.
This D-Con Corner Fit Mouse Poison Bait Station is a safer bait for rats using pellets. It is appropriate for use in the living room or apartment.
Pros
Safe around children & pets
Temper resistant and weather resistant
Designed as  bait stations
Usable both indoors & outdoors
Safe formula and ingredients
Ideal for attics, garages, basements, sheds
Cons
Not very effective for Norway rats
Neogen Havoc Rodenticide Rat & Mouse Bait has Brodifacoum, a powerful hemorrhagic rodenticide, is used as a bait to catch and kill rats. Because of this ingredient, the rat dies quickly from the finest poison for rats.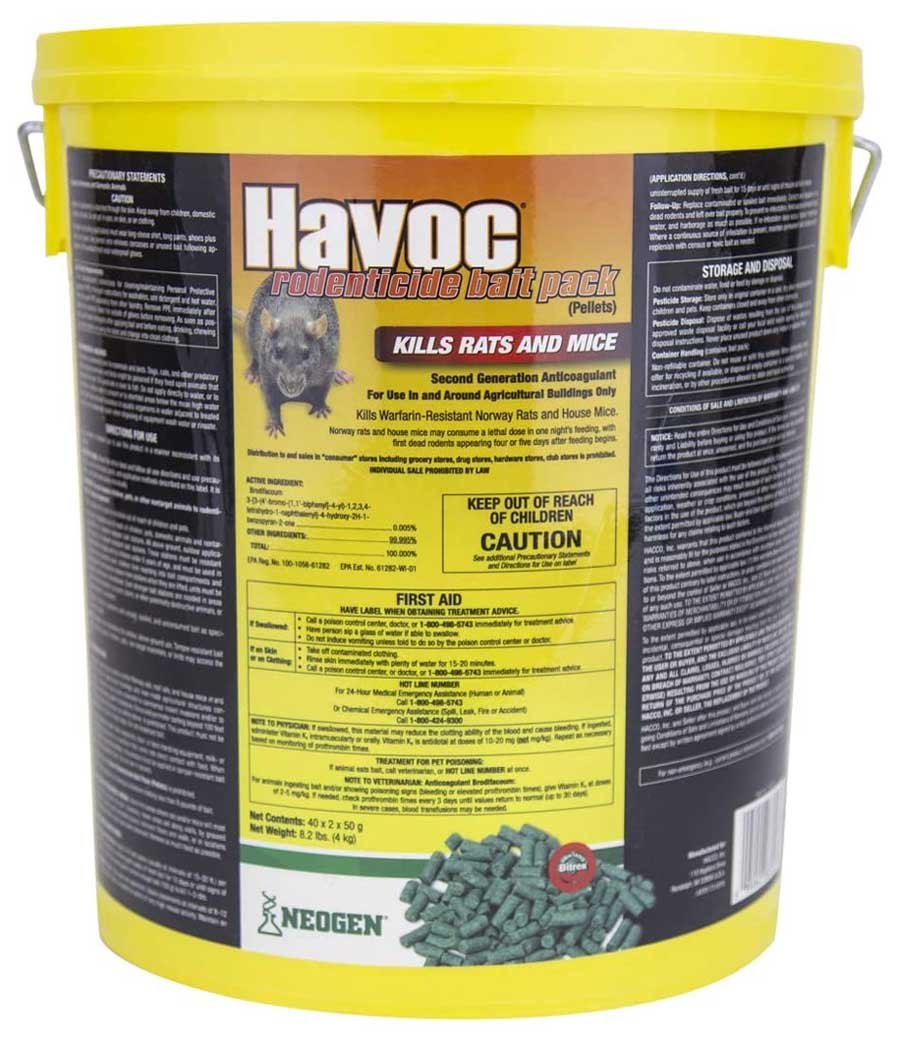 It just takes a few weeks for rats to breed and spread throughout your house, damaging your food supplies and even chewing up your favorite clothes. Use Havoc's rat bait for outside and in-house rodent extermination because this is a nuisance.
As soon as they begin to grow, apply the Havoc poison, which is the greatest way to get rid of a huge number of them. This is due to the bait's ability to draw in rats and then instantly kill them when they consume it. Make sure to place the lures in the roof and attic, as well as any other area of your home where you see them in action. As a result, you can be assured that the whole colony that has taken up residence in your home will be returned.
Norway rats, roof rats, and house mice can ingest deadly doses in one night's feeding from particularly the case of pellets. In order to prevent the lethal signs of poisoning from being associated with bait, the first dead rats emerge three to five days after ingestion. Use highly appetizing food-grade components, nuts, and cereals that provide mice with a diversity of tastes and aromas to offer improved rodent acceptance. Children and non-targets will be deterred by Bitrex, a deterrent. Agriculture-related facilities only.
Bait packs should be placed 15-30 feet apart for rats. For the next ten days or when the rat activity is no longer visible, keep a flow of new bait on hand. The bait in two packs is sufficient to eliminate 1-3 rats. Bait packs should be placed 8-12 ft apart for mice. At places where there is a lot of activity, several packs may be required. Fresh bait should be kept on hand for at least 15 days or until there are no signs of mouse activity, whichever comes first. Pellets weigh 50 grams for each bait pack.
Pros:
the poison is lethal nearly instantly
baits them towards the poison, making it an excellent lure
in both indoor and outdoor settings
the amount is large enough to last a long time
Cons:
Buying Guide for Best Rat Bait
We have discussed the market's finest rat poisons in the form of bait. Now let's take a look at different types of baits, their mechanisms, and how to use them. It is not enough to buy the bait; you also need to know your target pest and effectively use that poisoned bait.
Let's get to know more about the necessary characteristics of the rat bait.
Types of Rats
There are two types of rats in continental America that are the concern of homeowners.  Let's get to know them.
Black Rat
The black rat— also called the roof rat or ship rat is the tiniest among the two species. Their size doesn't make them less hazardous; their size allows them to squeeze into smaller areas. They're quick, agile, and are notorious climbers. This means they're susceptible to infesting every area of your home, even the attic. This is the reason they're called roof rats.
The rats are identified by their slim bodies, large ears, pointed noses. I addition, they have extremely long tails, which are much longer than their bodies. Black rats love to settle in tall trees to keep off the ground and avoid predators in the natural world.
Rats tend to enjoy sneaking into attic vents and are reported to chew through window screens to gain access into your home. If you've seen some of these creatures, be sure to check your screens and vent covers made of mesh to determine the holes they've made. If so, you've likely discovered the cause of your issue.
If you notice their sound in your attic, take note that rats are social creatures with a close family structure. If you've seen one before, there's likely to be many more, and there'll be an attic nest. Prepare rat traps in the attic's entrance as well as exit locations.
Brown Rat
The brown rat, commonly referred to by the name of a street rat, sewer rat, common rat, or Norway rat, is significantly larger than the black rat. These scavengers are everywhere in the USA; however, they are most frequent in warmer climates. They are distinguished from black rats by their small ears, large body, round-nosed noses, and tails nearly as long as the body.
Brown rats prefer to be near the ground, which allows them to quickly escape from danger by hiding under a bush or underground if they're in danger. That means they're more likely to be seen in the lower levels of your house. Norway rats are likely to raid your pantry or the rest of your foodstuffs storage to find an uninvolved meal. They're also known for invading grain silos, feed bags for barns as well as chewing through electrical wiring.
The only great thing regarding brown rodents is they won't typically infiltrate your attic. Instead, you can concentrate on setting up your bait near the ground-level food sources and near access points at ground level. Remember that even a large rodent can squeeze through an extremely tiny space. Check dryer vents as well as bathroom windows as well as other entrances on the floor.
Types of Rat Baits
Blocks and Bars
Coming in the form of a bar or block, these baits typically contain powerful anticoagulants. The anticoagulants create internal bleeding, which leads to the rodent's death. They may also contain neurotoxins, which kill rats in 24 to 36 hours.
The main issue with this kind of lure is that these baits or bars are usually scented to attract attention. They're indeed useful, especially since they smell of food that rats love! However, the downside is that it could also be attractive to your pet animal or child.
When using this type of bait, you'll have to ensure that you've eliminated any other food sources before using it. In addition, it could require more than one bite to get this rat poison into its effect. The presence of any other food or pet food source nearby will deter the effectiveness of the bait food.
Pelletized Bait
Baits that are pelletized also contain anticoagulants within them. The smaller pieces of bait eliminate the necessity of making or breaking the bar. They are much more convenient to put in.
They are ideal when you have a rat problem in your home. Because of its smaller size, it is easy for rodents of all sizes and large ones.
Even though they're not food-scented however, they do draw rats in. In order to get the proper lethal dose, the rats will have to consume multiple pellets. They're still efficient and beneficial.
Gel Bait
Gel baits can be easily dispersed via a tube or bottle. They are also less likely to draw pets like treats. But, these gels are usually suited for one kind of rat or another and not both.
Before utilizing a gel bait, make sure to clear all food sources from the area so that the rats are enticed to come in. It is better to use them together with a rat trap.
Certain gel baits contain rodenticides, while others are free of poison. Many have observed that poison-free gel baits appear to work better to trap rodents in a rat trap. These gel baits are known as rat attractants.
Other Baits
Effective baits include those that rodents already consume… which is food!
Norway rats are known to love fats and protein. They can take bait made from meat products just equally well as baits made of sweet or nuts. Effective baits for rats include bacon bits and chocolate lures. Also, dried fruit, peanut butter, soft candy, hot dog. They can effectively enter a food competition!
Roof rats, on the other hand, generally are vegetarians. Food scraps from your kitchen won't entice them, but nuts, peanut butter, or dried fruit definitely do. In the event that you've got snail shells, you can attract the rats since it's one of the only animals they'll ever eat.
How Do Rat Baits & Rat Poisons Kill Rats?
Brands and companies provide different formulations of rat poison and bait. The most common components found in rat bait include bromethalin, calcium releasers, zinc phosphide, and anticoagulants.
Each of these three toxins has distinct ways of working within a rat's system.
Bromethalin is a rodent-specific toxin that interacts on a rat's cellular level and affects the mitochondria. It causes a shut-down of vital organs inside the body of the rodent.
Zinc Phosphide is a typical toxin that is found in rodents of the agricultural rat killers. The toxin can cause changes in the digestive system, which causes swelling of organs in the body and eventually death due to gas accumulation.
Calcium releasers release an additional amount of calcium continuously into the rat's bloodstream, which calcifies the arteries and heart system in the rodent, which kills rats. The toxin can be used safely with pets and children. It's also one of the most well-known ways to kill rats on your property. Calcium releasers will not cause harm to birds, pets, or other prey species that choose to eat carcasses of dead rats.
The last toxin that is found in a few poisons for rats is an anticoagulant. This rat poison is capable of causing internal bleeding in rats when they consume the bait, leading to an inexplicably painful and slow death. Avoid using anticoagulants as much as you can. Because this toxin has a wide range of effects, it can kill many species of animals, including predators or pets, and birds.
But, anticoagulants could be the only choice in eliminating rats resistant to toxic substances, like those of Norway rats. They have a certain resistance against non-toxic substances and will require more powerful poisons to eliminate rat populations.
How To Use Rat Baits Effectively
The use of rat bait depends on the kind of bait you're employing. It's effective to utilize bait along with a mousetrap or rat trap. This way, you won't get decomposing rats in odd areas!
We have written about the different kinds of rat traps on our site. There are humane traps that catch rats alive. Snap traps can capture the rodent, causing it to break bones during the process. An electronic trap or electric trap sends an electric shock to the rodent that kills it instantly and without leaving any discomfort. Whatever the method, you need tan efficient rat bait to lure the rodent.
Before you can trap them, you must familiarize yourself with the areas where food items are located. Do not activate the trap for a certain amount of time before you do so. You can bait it but don't allow the bait trap to activate after being it is entered. You could also place the bait close to the trap's entry point to attract them to the trap.
Here are some tips for using different kinds of baits:
If you are using a new brick or bar bait, you might require breaking it down into smaller parts. Wear disposable gloves to ensure that you do not come into proximity to the poison.
If you're using pelletized baits, your main issue is the fact that they're cylindrical. When you're using snap traps, they'll fall away from the plate that activates them. Use some butter made of peanut to hold the pellet down.
Gel baits are easy to apply. You simply squeeze the tube, and the gel will pour out! The gel may not be effective on all rats; because those rats eat the bait and are also likely to share it with their family and friends.
If you prefer to use regular human food, such as nuts, fruits, and bacon, the process could be a lot easier. A smear of peanut butter can still assist you in "glue" your bait to the trigger point in your trap.
Put your baited traps in areas of your house where you've seen rat droppings. The placement of rat traps in these areas will give you the increased chance of catching rats.
Last but not least, Leave the rat traps and bait for the times when rats are the most active. Rats are known to exhibit nighttime behavior to protect themselves. So, this is simple, really.
Handling rat poisons is a tricky business. So, always wear gloves. Also, keep an eye on the secondary poisoning of wild animals.
Conclusion
If you have come this far and read it all, you should very easily be able to comprehend most rat poisons & baits and their effects. Select one of the poisons that we have reviewed, and get started baiting your rat. Suppose you're still struggling to find the poison that's appropriate for your home and property. In that case, you can count on our top choices in this review to help you find an effective solution. Moreover, you can write to us for more information (data rights reserved by our privacy policy).
The pest control requirements of homeowners and farmers differ greatly. Homeowners might require a more potent chemical that can kill rats within one feeding. Whatever your needs, be sure that you adhere to this poison, and ensure that it is out of reach of pets and children.
FAQs
Do rats learn to avoid rat traps?
Category: Rat Bait
Ans: Rats are very intelligent animals. They learn from their surroundings, gather data, and learns to avoid the old spring traps.
Do rats love peanut butter?
Category: Rat Bait
Ans: Rats are crazy about peanut butter. It makes a very good lure for rodents.
What food is irresistible to rats?
Category: Rat Bait
Ans: Rats love food containing fats and protein.
What is the most effective rat bait?
Category: Rat Bait
Ans: A bait that has a good scent that lures the rodent to the rat trap and kills them after just one feeding is a bait worth buying.
What is the most irresistible bait for rats?
Category: Rat Bait
Ans: A bait with a peanut butter scent is the most irresistible bait for rats.