You can use the best rat trap to get rid of as many rats as possible. We all know that rats are a particular annoyance of household life. These rodents smell, steal food, and most importantly, they spread diseases. It is very important to get rodent infestation under control, or this will let the rats invade your home.
There are various methods of controlling rodent infestation like glue traps, zappers, bait traps. Some expert exterminators can do it for you. But that costs a lot. And if you have a small infestation, it doesn't make sense to spend that much in it yet.
We are reviewing the best rat traps on the market today. These rat traps are the most efficient and have pleased a lot of customers. We will also include a buying guide for you, so you know what the specifications of an ideal rat trap are. And then, we will answer some of the internet's most asked questions.
7 Best Rat Traps Reviewed: Our Top Picks
Let's dive into the list of best rat traps and read the detailed reviews-
Havahart store is one of the most known brands when it comes to rodent infestation products. They manufacture effective traps to take care of these rodent infestations.
This One Door animal trap is the highest rated, highest reviewed rat trap in our list. And deservingly so!
This is a humane way of taking care of your rats and mice problem. Havahart does not kill rats. It traps them so you can decide what to do next. It is effective in catching rats, catching mice, squirrels, chipmunks, and weasels, and other wild animals.
This is a safe rat trap that minimizes your exposure to the rodent by a lot. You lure the rat with some rat bait, like peanut butter, bacon, or some other type of food, on the bait cup and leave the trap on the rat's usual route.
When the rat touches the bait, the trap's spring mechanism will trigger the gravity activated door behind the rat trapping the rat inside. This is a live trap for rats.
The cage is made with galvanized steel mesh, and the joints are very sturdy. The cage is rust resistant and corrosion resistant.
When you have caught a rat in this trap, you get to choose what to do with it. Some people keep the rats in a larger cage and release them later in an uninhabited place. At the same time, some people kill a single rat.
The system is very efficient and makes sure you do not have to touch the rat at any point. The manufacturer stresses that you should RELEASE THE RODENT AFTER CATCHING, of course in compliance with your state's CATCH AND RELEASE LAWS.
The whole trap weighs 1.47 kgs, and the size is 16 inches x 6 inches x 6.25 inches.
This trap is very safe to keep around your children and pets. You can use this trap in your backyard fence, crawl spaces, or wherever you think rodent population or rat activity is. Usually, you can identify the right place by looking for rat droppings and urine stains.
This trap is recommended by animal welfare activists around the world mainly because it is humane and doesn't kill the rat. You can choose to let the rat go somewhere far away from your home. It is way more than these pesky rodents deserve, but in the end, it is what makes us humans.
This is an affordable product that can serve you for the purpose you are buying it and give you services on the side as well.
Pros
1 highest reviewed rats and mice trap
Takes care of larger rodent problem
It can be used as mouse traps as well
Children and pets safe can cage multiple rats
Live traps with large cages for trap shy rats
Can be used outdoors, catch and release trap
No contact with the rat is needed
No blood and gore like glue traps, large bait station
Cons
Only traps single rats, might have to buy more than one
This is a modernized snap trap that uses a traditional traps snapping mechanism and has improved on it significantly.
This is a stainless steel snap trap that is very efficient in killing rats. The material promises you a long and functional service life for the trap.
Kat Sense Pest Control trap features a smart and integrated bait cap that will lure the rat inside, and when it is, the trap will snap shut. It is very efficient in killing rats by breaking the rat's neck.
There is a stainless steel spring mechanism that allows a fall that is enough to break fingers. Kat Sense boasts a 99.6% success rate.
Kat Sense Pest Control trap is a safe design that is very efficient and very easy to set and release.
You can use this snap trap anywhere, multiple times. This trap features a fast kill technology that kills rodents fast and efficiently. The release mechanism is also very safe. No touching of the rat corpses is required.
Kat Sense Pest control offers you a full refund if you are not happy with their service. As this is a six piece set for just under $25, it is a great deal!
Pros
Improvised standard snap traps
Takes care of mouse as a mouse trap
It can be used outdoors
No contact with the rat is needed
Fast killing, tremendous success rate
Six pieces pack for rodent control
Can kill rats, mice, and chipmunks
Cons
Not ideal of killing larger rats, black rats, or multiple rats
Tomcat snap trap is another improvisation of the classic snap traps.
This plastic snap trap uses interlocking teeth to kill rats. It has a low escape rate. Plastic is very heavy duty and high impact. The spring mechanism that this trap uses is metal, of course, and rust proof metal.
There is a removable bait cup. You can set the trap with your hand or feet. The bait cup can be filled with your usual baits, but Tomcat has an Attractant Gel for better result to attract the rat more. This gel is sold separately.
First, you need to identify the rodent infestation and then choose a spot where you will keep the trap. This trap will give you results soon.
Pros
Improvised standard snap traps
Fast killing
Can kill rat, mouse, and chipmunk
Cons
Not ideal for killing larger rats
This is another cage rat trap that is made with alloy steel and is very durable. You can use this cage trap to catch rats, chipmunks, and mice.
This trap catches rats alive, and you can release them far away from your home to prevent further infestation. By thinning the rat population, you can slowly take care of the rat problem.
This is the type of method your local exterminator will use.
This has a highly sensitive trigger mechanism that shuts the slide bar door behind the rats. And trapping the rat with a small amount of bait is possible.
There are three sizes available. The medium sized one is 12 inches long, 6.6 inches tall, and 5.3 inches wide. It comes in a package of two. But you can buy a single piece as well.
This trap is affordable and functional. You can use this to take care of other rodent problems as well. You will get a user manual with each purchase.
Pros
Live rat traps
No killing traps, no suffocation like traps using glue
Can catch rat, mouse, and chipmunk
Cons
Not ideal for catching larger rats, multiple mice
This is a larger snap trap that comes in packs of four pieces. This is a premium product in our list that people have used and found to be of use.
These plastic snap traps are used to kill the rat infestation each day, killing a single rat with each trap. You simply place bait on the cup and place the trap on the infested area.
This trap uses an instant kill method with very sensitive triggers that ensures no stolen bait or escape. This is a fast kill method that is very effective and humane way.
There is no harmful chemical or poison, so this is safe for your pet and home. The trap is reusable and washable. You can buy packs of 4, 6, 9, 10, 12, 16, 20, 24. This snap trap is very affordable and can be purchased in bulks to kill as many rats as needed.
Pros
Larger than most traps
No chemicals used, no poison
It can be used for other rodent infestation
Affordable packages
Fast snap mechanism
Cons
Plastic body can break after long term use (not right away)
Rat Zapper Electronic rat trap is a modern way of killing rats. It is a clean and fast way to kill rats without all the blood and gore.
This electronic rat trap passes a deadly shock to the rat and mice that kills the rat and mice instantly and painlessly. This uses a set of batteries that generate the high voltage shock.
This is a hands free rat trap, unlike glue traps. You just set the trap, place it at the best place and relax. This will kill rats 100% of the time.
This is a safe and clean rat trap that uses no chemicals, poisons, or spring mechanisms that will hurt you or your kids.
But it is always advised to keep your children away from the traps.
Pros
New technology with a high kill rate
Safe and sanitary, no blood
The easy clean kill chamber
Cons
Uses batteries, unlike other traps
Rodent control solutions from Victor Pest may be counted on to be effective. Victor Pest is an established top brand in rodent control since 1898, making it one of the oldest companies in the industry. A century ago, they invented the spring-based mouse trap, which reinvented rodent management, and they continue developing today, producing high-quality modern solutions that protect your business, your employees, and the customers from the hazards that mice offer.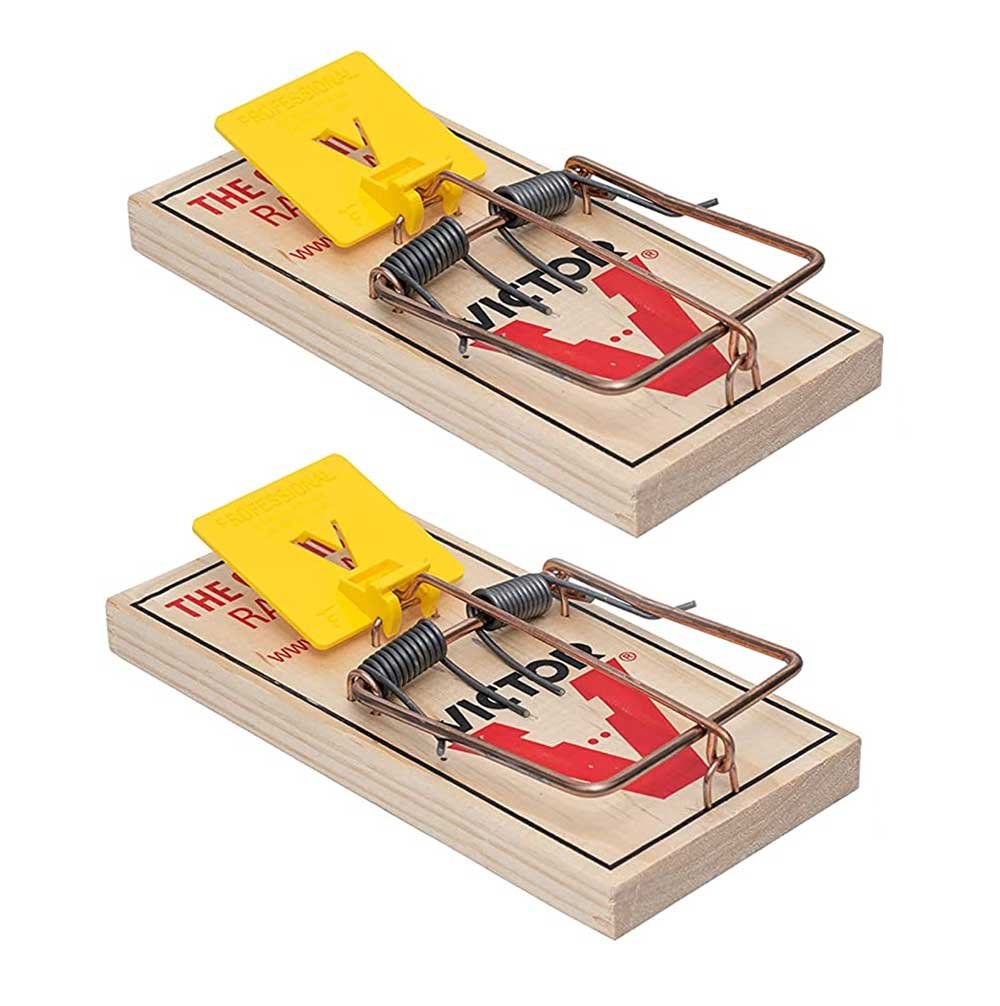 The Victor M205-6 Easy Set Rat Trap simplifies rodent management. Incorporating the traditional hardwood snap-trap construction with an enhanced bigger trip pedal, these traps will help you remove rats from your home or company. The intensity of the trap may be adjusted using two options: Hard and Delicate. They're also environmentally friendly, as no pesticides or toxins are needed to set them up. Rat traps must be set across surfaces at 2-3 feet distances to get the greatest results.
With this Victor Pest M205 rat trap, you can catch rats fast and easy! A century-old company's excellence is evident in this rat trap. In addition, it is safe to use in any environment, inside or out. You may catch rats with these rat traps by tempting them in with the promise of food. To lure rats into the trap, the device has a cheese pedal that emits the aroma of cheese. If a rat is caught in the trap, either remove the rat by lifting the bar or rid of the complete trap to make removal faster and easier. As a result, the trap has an extended trigger pedal in order to increase catch rates. It's possible to alter the responsiveness of the trap by varying the firmness or sensitivity of the springs.
Place the baited end of the trap snug against a wall in hopes of catching rats more readily, as rats like to move near to walls. Wood from FSC-certified forests was used to build this trap.
You start by putting a little amount of lure on the pedals, then move back the arm and secure it in position with a bar. When a mouse walks on the bait pedal, the crossbar will snap, and the trap is ready to go. Please note that these traps might be difficult to develop, despite their effectiveness.
Pros:
Easy set up
Effective and clean
Not electric or chemical
FSC certified
6 Trap Pack
Cons:
Best Rat Trap Buying Guide
There are several types of rat traps, and they work in different ways. There are electronic rat traps, there are those classic snap traps or bait traps, and there are glue traps. These types of traps are effective in their own subtle ways.
We have reviewed the best rat trap in the market that were bought, used, and reviewed to be the most effective. We have tried to touch on each type of rat trap out there.
In our buying guide section, you can see what the necessary features of rat traps are, and you can eliminate the low quality ones.
Types of Rat Trap
As said before, there are a few types of rat traps. Let's see what those types are.
 i. Electronic Rat Trap
Electronic Rat Traps or electric traps are the most efficient way to take care of your rat problems. It is the easiest and the quickest method of killing rats.
This uses a high voltage shock to kill rats that come into the trapped chamber. These traps have advanced technology that has sensors and other advanced circuitry that allows you to take care of the rats.
These rat traps are reusable and rechargeable and come with a battery. Electronic rat traps use baits and let it sit where you think the area that the rat moves. And it will take care of that problem.
We have reviewed the finest electronic rat traps for you.
ii. Snap Traps
Snap Traps are the classic traps that use simpler technics like spring and hook. There is a locking bar that is used to kill or trap a single rat that is held in place with a small staple.
When you place bait on place, and a rat comes to take the bait, the staple is disturbed, and the locking bar is unlocked. This allows the locking bars to fall and kill or trap the rat. Cage traps use the same snap spring mechanism, but instead of killing the rat, it traps the rat. The rat enters, touches the bait and the spring mechanism shuts the door.
Working Method
The method is an essential consideration for your rat trap purchase. If you want to kill the rats, you should go for certain types of traps. If you don't want the blood and gore, you will go for certain other types of trap.
Snap traps do, sometimes, make a horrible mess. There is blood everywhere. This is an issue around pets and children. Then there is also the need to clean the place.
Electronic rat traps are the safest, but they can also make a mess if there is humidity in the air or the rat is somehow wet. This can kill rats efficiently, but this can cause a smell.
Glue traps do not kill rats right away, it gives them a slow death. The glue trap requires you to do that yourself. It takes a lot of effort to take the rat off of the glue and kill it. Some people just leave the glue and the rat for the obvious result. But that is not ideal by any means!
This is a buying consideration that depends on you entirely. We have selected the highest reviewed products that are a customer favorite and functional.
Safe Disposal System
The next significant consideration should be disposal systems. Most rat traps have easy disposal systems. You don't have to touch the dead rodent to dispose of it. These systems are safe and efficient. They ensure your health.
Rats carry many diseases. They were responsible for the bubonic plague in Europe. Dead rats are particularly dangerous in this regard because you might ingest the rat's blood, or you might get the rat's blood in your bloodstream through cuts in your hand and other organs.
A good rat trap makes sure you don't have to touch the rat at any rate.
Rat Trap Cost
Cost is a consideration for buying anything. You must think of alternatives to a high priced product. You might want to think about buying those alternatives because, let's face it, if a rat trap costs hundreds of dollars, you are better off calling an a local exterminator to do it for you. That makes more sense!
Our list offers you options in that regard. You can choose from rat traps that we've reviewed. These are the finest rat traps that people have used, and these are affordable and/or reasonably priced.
Rat Trap's Killing Speed
Rat traps use various speeds of killing rats. Electronic rat traps are instantaneous, more or less. You pick up the dead rats in the morning.
Snap traps are also instantaneous. If the kill bar or hammer falls in a certain way, of course. But there is the chance that you might have to encounter live rats because the hammer did not fall conveniently. There are other times when the snap trap will suffocate the rat. It takes a while too. And heavier rats can easily move with the trap. When it comes to killing rats, snap traps are the better option, but the chance of a rat escaping is also not insignificant.
Glue traps are the slowest method of rat traps. These traps glue a rat, they then die of starvation or suffocation. This takes a while. Especially the starvation method, because rats are very resilient. This is a slower method compared to the other two methods. But nonetheless efficient.
Rat Size
This is the most crucial buying consideration that you should have before buying the best rat traps. You must make sure to purchase traps that are able to kill the type of rat that you want dead.
Rats can grow a bit larger than mice. They are stronger too. A common sewer rat can grow up to ten inches in length and have corresponding strength to that size. Not just any trap can kill this rat.
There are other rats that can grow bigger than any mouse ever could. These require larger traps, or better yet, professional exterminators.
For your house rats and mice, the rat traps in our list will do more than enough job.
Safety Features of Rat Traps
Rat traps aren't particularly dangerous for humans because there is no harmful chemical in use. But it can be dangerous for children and pets around your house. These traps can hurt them, or even worse.
Snap traps hammer falls with a considerable force that is enough to break softer bones. Electronic rat traps can shock you with powerful voltage, and glue traps can harm your children and pets.
These are the things that you must keep in mind while setting a rat trap.
Set the trap where you know rats will venture. Too often, people set traps randomly and end up with no kills.
Use baits that you know the rats are attracted to. Using any bait will not lure a rat. Use the food that rats usually steal from your house.
Set the trap at night when there are no movements to distract the rats.
Avoid checking up on the baited traps. This will keep the rats away.
Lock your pets or children in a room. It is because of their own safety. You can reason with children, but you must keep your pets away from the traps.
Please don't rush to the trap when you hear a snap or think it may have caught a rat. Wait an appropriate amount of time, let the trap do its job. The second reason you should not rush to the trap is that it may have been set off accidentally. Happens all the time. Also, there are times when a rat can break the snap and move away with minor injuries. This rat can be very agitated and confused. Encountering such a rat is not a good idea.
Use gloves and masks while disposing of a rat. Rat's diseases are transmittable to humans. It can transmit to us by blood or other body fluid. It is better not to take the chance at all.
Final Words
Rats are a particular annoyance of the civilized world. These rodents are highly adaptable, and their omnivorous nature makes them able to survive and thrive anywhere! They can live indoors, on the sewer, walls, dumps, and even on marine ships. It is tough to get rid of rats.
We have made friends with cats hoping they will take care of these rodents for us.
But for people who prefer solving a problem by themselves, traps are the option. We have made a list of top-notch rat traps that people have used and found to serve them the most.
Please write to us with your experiences, suggestions, and support (data rights reserved by our privacy policy).
FAQs
Are rat traps safe for pests?
Category: Rat Trap
Ans: Rat traps that do not use poison are usually safe to keep around your pet. But rat traps can hurt your pets if they mess with them. This is why it is better to set the traps somewhere your pet can't reach, and the rats are there. It isn't usually hard to find because the rats usually avoid your pets anyway!
Can rat traps break fingers?
Category: Rat Trap
Ans: Snap traps can easily break fingers, which is why manufacturers have bypassed the possibility by making trap settings easier and safer.
Do rats learn to avoid traps?
Category: Rat Trap
Ans: Rats are very sensitive creatures. They are cautious about their environment. They will avoid anything new around them, including traps. It is usually better to let them get acquainted with the trap. You can just use the bait on the trap with unset traps for the first few days.
What food is irresistible to rats?
Category: Rat Trap
Ans: Rats are usually attracted to peanut butter, but you can use bacon and other nuts to lure a rat in.
What is the most effective rat trap?
Category: Rat Trap
Ans: The most effective rat traps are cage traps and electronic traps. Snap traps are effective as well, but those traps can sometimes malfunction. Use our list to see the best rat traps that are effective. There was the Authenzo mouse trap that has been discontinued for some reason.
Which rat traps actually work?
Category: Rat Trap
Ans: All rat traps work more or less. But the most efficient rat traps are cage traps and electronic traps. Using an ample amount of bait will always attract rats.