The best cockroach repellents have become a common product for households nowadays. We all know that cockroaches are nature's ultimate survivors with a strong life force. They can eat everything and survive almost anything; that's no news except maybe decapitation. But some believe that they can go on to live up to a week even then!
Cockroach infestation is a real problem around the world. Cockroaches can live in any cool and dry place and can invade your house. They spread diseases, bacteria, and other microbes are their usual cargo. Cockroaches are scary too! Katsaridaphobia or fear of cockroaches is something that people suffer from.
Well, you know where this leads! We will see about roach prevention.
We are going to review some of the finest cockroach repellents on the market today. We have looked through hundreds of products that people used for our list, and from expert advice, we have selected only a few.
We will present a buying guides section filled with expert recommended features. In addition, we will answer some internet FAQs related to cockroach repellents as well.
Best Cockroach Repellent Reviewed: Our Top Picks
So, let's go into the list of the top picks page!
This is listed as the top #1 Pest Repellents on Amazon. This is a 1.1 gallon size (other sizes available) spray bottle with a comfort wand that is the most effective in repelling and even roach killing.
This highest reviewed, highest rated roach repellent works as the ultimate insect killer for indoors and outdoors. Ortho Home Defense Insect Killer can kill all types of cockroaches like the American Cockroaches, Asian Cockroaches, German Cockroaches, and Brown banded cockroaches (check Getty images). It can also kill ants and spiders of almost all kinds. The manufacturer boasts about the more than 130 species that it can kill.
The active ingredient on this roach killer is Bifenthrin and Zeta-Cypermethrin, which are very effective in killing and repel roaches. This is a non-staining color, odor free spray that can keep roaches away for a long time.
Ortho Home Defense, which is a famous brand of repellents in the US, keeps insects and roaches away for 12 months. This creates a barrier that keeps bugs away from your home.
The comfort spray wand is reusable and eliminates the need for bending or constant pumping. The spray is a one touch spray that eliminates hand fatigue.
There are so many good deals on this product that you can choose from. And the prices are also very reasonable compared to the things you will be getting with this.
Pros
1 pest control spray to get rid of cockroaches by contact
Long lasting residual properties cockroach deterrent containers
Reusable comfort wand with convenient spray nozzle
Non-staining pest control, odorless chemicals reaction, fewer spray frequencies, size/ volume options available
Can work against other common resistance bug species and household pests perimeter items
12 month barrier from cockroach problems
Insect repellent for household pests problem
Cons
Possible fake products exist; when in doubt, check for the original store or order from Amazon
This is another highly recommended cockroach repellent on the market. This is the second highest reviewed roach repellent on our list.
Zap A Roach is a famous brand that is dedicated to controlling roach infestations. This product is made with Boric acid; it is odorless and non staining. This is a powder or dust cockroach repellent that has been around as a brand since 1946.
This Zap A Roach works on other bugs and insects just as well. For example, this repellent can be applied on cupboards, floors, countertops. It's safe for humans skin. There is no odor, so it will not make your house smell of medicine.
This dust cockroach repellent can be applied anywhere; the manufacturers prescribe that you should use a thick coat of this powder to get rid of the roaches faster.
It is generally a good idea to keep the children and pets away from any insecticide. It is safe for the skin, but you should not use it around food, kids, or pets.
Pros
Dust cockroach repellent (don't use water mixture)
Convenient twist cap edition, discounts available
Non staining chance, odorless chemicals
Can work against other common bug species and house pest
Cons
Can cause body irritation on kids, needs vacuum cleaner to clean
Raid is one of the top companies that has produced the best insect repellents in the US for decades. This is their roach repellent spray.
This spray uses Deltamethrin as the active ingredient to repel cockroaches from your home. You can use this spray in the hard to reach areas and have long term control properties. You can spray this directly onto the cockroach or spray it in the areas you want them to stay away from.
There are no foul odors that come after spraying Raid spray; it has no stain either. The spray can repel, along with cockroaches-
ants,
boxelder bugs
centipedes,
crickets,
firebrats,
fleas,
flies,
gnats,
ground beetles, and
mosquitoes,
scorpions,
silverfish,
small flying moths,
sowbugs,
spiders,
stink bugs,
ticks
Raid is one of the most famous repellent brands in the US for this reason. Raid comes at a very affordable price for you, and it can take care of the bug problem very effectively for you.
You can use this spray indoors and on the property, but there are a few cautions. Do not spray directly on your skin; it can cause skin irritation. It is better not to spray on food handling areas. And most importantly, it can kill bees, so don't use the spray to kill them.
Pros
Most famous repellent in terms of effectiveness
Pest control spray to reach hard to reach areas
Non staining methods, odorless chemicals
Can work against other common bug species and house pest
Great insect repellent to get rid of cockroaches
Cons
Can kill bees, skin irritation is recorded
Not safe for asthma
EcoSmart is another natural, plant based pest control cockroach repellent on our list. This is a harmless product that uses natural and herbal ingredients.
The active ingredients in this essential oils based roach repellent are Rosemary, Clove, and Thyme. This gives you a cockroach free home and a great smell! The other plus side of this spray is it doesn't contaminate water and doesn't harm the corps.
There are no harsh chemicals used on this spray, so it is safe for kids and pets. This is plant based essential oil made cockroach repellent that can be used to repel over 100 home invading pest infestations.
This is 24 ounces bottle that can be sprayed over a 140 square feet area. The price is really low and affordable, even in multiple units of the spray. You can buy this spray and give your house a cockroach infestation free and pleasant smelling outlook that will impress everyone!
Pros
Natural ingredients, essential oils
Safe for kids and pets, and furniture
Your house's great smell remains, aromatic therapy
Great insect repellent for homes, entry points
Cons
Can fail to work on other house pests
Tempo SC Ultra is a top-selling pest control product made by Bayer, a German business well-known for its high-quality pest management solutions. As a consequence of its long-lasting outcomes in a wide range of circumstances, it stands out from the competition in terms of its safety and effectiveness.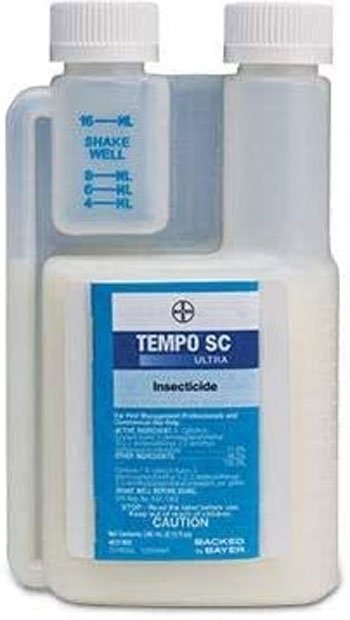 Broad-spectrum pesticides like Tempo SC target a wide range of pests which have already been proven to cause harm to lawns, gardens, and other landscaped areas. A lot of the time, it's employed to combat a diversity of species or pests that are damaging plants. The use of these insecticides is also justified when it is impossible to identify the individual organism or species in question.
It is effective against a wide range of pests, including those found both outside and indoors, such as bedbugs and roaches.
The active ingredient is what makes this insecticide effective. A parathyroid pesticide, beta-cyfluthrin, is included in this product. As a result, it's an organic pesticide, making it a much more often utilized in the home.
For the most part, this active component is safe for both people and animals to use. However, it may cause allergic responses or other health issues if it gets into contact with your lips, eye, or any small cuts.
You should be aware how this insecticide is incredibly damaging to aquatic life forms. As a result, be cautious while applying the Tempo SC Ultra insecticide and keep it away from any water sources, both surface and underground. To avoid it getting into touch with water, either evacuate any freshwater inverters from the area or secure all water sources firmly before spraying.
A single bottle of Tempo SC Ultra pesticide can take care of more than a hundred different kinds of insects. This insecticide concentrate is potent enough to kill any insect on the spot and hold them back from the treated area for a while.
The pesticide employs an active component that is safe for humans and pets, yet it kills any insects within seconds. Get this Tempo SC Ultra insecticide, which may be used indoors or outdoors, if you require one.
Pros:
Kills 100 types of bugs
Very effective
Take 7 to 10 days
High-quality pest management solution
Cons:
Harmful for aquatic animals
Cockroach Repellent Buying Guide
One thing you may have heard from friends and colleagues is that- "Cockroaches are the masters of survival; they have survived the Jurassic event, they have survived the nuclear blast!"
As it turns out, they did! They absolutely did. But one thing that you need to know about the two events is that none of the events were meant to kill cockroaches. And they live underground! So, there's that.
But, these pests are particularly hard to get rid of! The species can eat anything, so they will not die of starvation even if you have driven them away from your home. You'll need special insecticides, roach killers for that.
We have gone through a selective process where we looked for the ingredients, fragrances /scents, and efficacy of those products. Our research has led us to develop a benchmark for cockroach repellents. If a product matches that description, we added those links to this list.
Here in our buying guide, we will discuss the features of cockroach repellents that you should look for when buying from your local shop or here, from our list! Let's see then-
Active Ingredients
Roach killer solutions can work as repellents sometimes. This is why it is essential to read the label of the product that you are buying.
There are various types of roach repellents on the market that use different ways and ingredients to repel roaches. There are natural repellents, chemical repellents, repellent dusts, and the new ultrasonic pest repeller.
         i.   Natural Cockroach Repellent
Natural Cockroach Repellents use natural and organic ingredients to repel cockroaches. These are safe products that can actively repel approaching roaches and do not pose any threat to your, your kids, or your pet's safety.
There are several natural roach repellents, like peppermint oil, mint, catnip (nepetalactone), corn mint, diatomaceous earth, eucalyptus oil, coffee grounds, tea tree oils, bay leaves, and other essential oils. Some research has found that these contain toxicity that is unbearable to American cockroaches, German cockroaches, and Brown Band cockroaches.
There was research done in Kansas that concluded that cucumber has cockroach repellent abilities as well.
Natural Ingredients are excellent and safe participants, but they require preparation and knowing the exact amount and means of the needed ingredients. But there are commercial repellents that use natural ingredients that are safe for you and your house. Our list features the safest roach repellents that have plants based natural ingredients.
       ii.   Chemical Cockroach Repellents
Chemical repellents use Environmental Protection Agency approved pest control chemicals. These have active ingredients like Imiprothrin, Pyrethrum, Pyrethroid, Bifenthrin, Zeta-Cypermethrin, Deltamethrin, and Petroleum distillates. These are tried and tested, the authority approved chemicals that have a proven record of repelling and killing roaches. These roach killers are firm and not harmful to people.
Chemical based roach repellents are the preferred type of repellents there is because these come ready to use, and they are safe for people.
We feature the repellents with the most effective chemical ingredients for your cockroach infestations.
     iii.   Dust Based Roach Repellents
Dust based cockroach repellents also use chemical ingredients, but some are there that use diatomaceous earth powder as well. Diatomaceous earth is mined from mines that contain aquatic fossils. DE fossils contain tiny shards of aquatic microbes that have razor sharp edges around their bodies that cut the pests and dehydrates them to kill.
Dust cockroach repellents are odorless, so repelling the roaches can be an issue, but a thick coat will do the job. You'll need dusters as well to spread the dust in walls, crevices, and cracks. This will work for the best. Don't use dust repellents with water; they don't work with water.
     iv.   Ultrasonic pest repellent
These are the new cockroach repellents of modern technology sound waves. Easy on-off method pest repellent. Ultrasonic pest repellent manufacturers claim their products can repel cockroaches. Sounds good, right?
Well, just for one little thing, that is called, Science! There is no scientific evidence, based on laboratory research that Ultrasonic Pest Repellers work. These do not work as advertised, and that is a violation of FTC rights rules. We are not going to recommend these and will waste no time on this!
       v.   Repelling Light
Cockroaches roam in the night, as we all know. So, what is it with light, and can we use it to our advantage? Turns out we can.
It was found in a California State Science Fair that some lights link to repelling cockroaches, red being the highest effective, followed by green, white, yellow, and blue. Because cockroaches don't favor light and heat, and dry, you can use lights to repel cockroaches! The scientific method is incredible, right?
Repellent's Effectiveness
The effectiveness of the repellent is an essential consideration of purchase. But, buying from a local shop doesn't allow you to read customer reviews. Buying online will enable you to do that. We have taken it a step further; we have made a list of highly effective cockroach repellents based on the customer reviews.
All of these repellents are effective and can get rid of your roach problem in the house. But, word of advice, if you feel you have a large roach infestation in your home, you will need to buy more than one unit of these repellent sprays or powder. Thick layers of powder and several sprays work effectively with roach infestations. Don't worry; this trick costs less than extermination service.
Brand and Price
This is the most important thing to mind when buying anything! Brand and price are the most common driving factors that affect a purchase positively or negatively.
Brands are important when you are buying anything that uses chemicals, especially insecticides or pesticides. There are several reasons for that. The first is safety. Big brands have many things to worry about; if one of their products ends up making someone ill, they will be in big trouble. So, they take care of that through quality checks and quality control. They have their reputation and brand value on the line, and they will not risk that for one product worth a few hundred dollars! This plays to the consumers' (no, not like that. "User") advantage. So, big brands are not always bad.
The price is a bit complicated. On the one hand, spraying solutions are cheaper and usually effective than calling in extermination services which could potentially cost you thousands of dollars for a pest problem. But extermination services do a thorough job.
We think it is better to take care of the more minor to medium cockroach infestations yourself with sprays and powders. If things get out of hand, then call in the experts, extermination service.
Safety Tips for Using Cockroach Repellents
Sprays or powders work better if you cover all the areas thoroughly. You need to cover the cracks, gaps, and crevices where roaches can nest.
Cool, dark places should be attentively sprayed. These are the places where cockroaches hide. Locations like bins, cupboards, and drawers.
Cover the entrance points/ access openings with spray or powder. Most of the time, the cockroaches enter our homes from underneath (sewers) or our neighbors. If you cover the entrance points, you will see a reduction in the roach infestation.
The surfaces under the sink, the drainage pipe clutter, and unused pipes offer cockroaches places to live. Spray those areas regularly.
Don't spray poisons directly at food, dishes, or the places where food is prepared (like kitchen) under any situations. But if you wash the area after you are done getting rid of the cockroaches, you can spray.
Avoid food storage areas like cabinets, same as fridges. If you can seal all the food or remove and replace the food with someplace else, you can do that.
Use face masks while spraying or powdering. The tiny matter particles may not be as harmful, but the aerosol grade spray feels weird when inhaled.
Always wash hands, and clothes, carpets after use of spray drops.
Final Thoughts
Our list results from thorough research based on scientific studies, Environmental Protection Agency (EPA) recommendations, and FTC rules. These products have passed these steps with ease. Disclosure, there is no special brand pitching like an affiliate advertising program. We only get an affiliate commission from your purchases from Amazon. So, this is an unbiased list prepared solely for the benefit of users.
This list features the links to the finest cockroach repellents that have worked for millions of real people worldwide. These are the products that work.
If you have any queries, comments, suggestions, messages, write to us with your email address, we will get back to you. We appreciate your recommendations as well. Please write to us (data rights reserved by our privacy policy).
FAQs
Do roach traps work?
Category: Cockroach Repellent
Ans: Roach bait traps work best. The best roach trap includes mixing an alluring food with insecticide, tricking the cockroach into eating it. The cockroach will also eat dead roaches
How do I use essential oils as natural roach repellent?
Category: Cockroach Repellent
Ans: Essential oils come in spray and pouches; see our list of roach repellents to find out the essential oil-based natural cockroach repellents.
How to clean areas sprayed by roach repellent?
Category: Cockroach Repellent
Ans: Use warm soapy water in cleaning areas and spaces that are sprayed.
What are the common mistakes to avoid when you're trying to repel roaches?
Category: Cockroach Repellent
Ans: Avoid spilling food, take the trash out regularly or on alternative days, close the entrance points, and apply repellents.
What Combinations Work Best?
Category: Cockroach Repellent
Ans: Repellent and bait traps combination application works excellently. There are repellent and killer dual-action sprays that work agreeably as well.
What essential oils are useful in repelling cockroaches?
Category: Cockroach Repellent
Ans: Natural products use organic formula ingredients to repel cockroaches and other common pest species. These use a variety of essential oils, even in a pouch form. The convenient pouches can cover up to 10 cubic feet of area. Cedar oil, Cinnamon, Lemongrass, Rosemary, Mint, and Peppermint essential oil. This can repel all common house bugs and some rodents as well. The essential oils give this roach repellent a pleasant smell.
What is the most effective cockroach repellent?
Category: Cockroach Repellent
Ans: The most effective results cockroach repellents are chemical based cockroach repellents. Ortho home defense is the most effective cockroach repellent on our list.
What repels cockroaches instantly?
Category: Cockroach Repellent
Ans: Imiprothrin, Pyrethroid, Bifenthrin, Zeta-Cypermethrin, Deltamethrin, and Petroleum distillates are the chemicals that repel cockroaches instantly. Red lights also work.
What smell do roaches hate the most?
Category: Cockroach Repellent
Ans: Roaches hate essential oil smells and chemical smells like Imiprothrin, Pyrethroid, Bifenthrin, Zeta-Cypermethrin, Deltamethrin.
Which smells keep roaches away?
Category: Cockroach Repellent
Ans: Natural smells like the mint family- Peppermint oil, Mint, Catnip, Corn Mint, and Diatomaceous Earth, Cypress, Garlic, Eucalyptus Oil, Coffee Grounds, Cedar Oil, Cinnamon, Lemongrass, Rosemary, Tea Tree Oils, Bay Leaves, and other spices, essential oils smell posts roaches away from apartments.